Hi everyone, sorry that I didn't get a post this past week, it was slightly crazy. But I can't wait to tell you all about my week. It was a fun filled one for sure. So here is my week in a nutshell.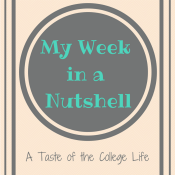 Really my week didn't go completely crazy until Thursday. While I had a bunch of homework and projects to do all week, the fun started Thursday. So I guess this is really a weekend in a nut shell, but I don't care.
Thursday:
Well the sisters of Sigma Alpha Iota participated in Trick or Teke this year. It is a philanthropy event for Tau Kappa Epsilon (one of the fraternities at Troy) and while this was the first year we have done something like this, it was a lot of fun. Thursday was the final big event, the party. We made a banner and pumpkin for it (we won second in both of those categories) and Alex and I dressed up like Pikachu and Ash Ketchum. It was a lot of fun and a great way to start off my anniversary weekend.
Alex and I celebrated our three year anniversary this weekend, so that is what this is going to show a lot of, our anniversary shinnanigans.
Friday:
This was our actual anniversary, but because it is the fall and it just always works this way, we had a football game, in Mobile. So while we didn't get to do anything on our actual anniversary, we did have a lot of fun. I gave him his presents through out the day with help from some friends. He got his gifts at random times and me being the smart person I am, I didn't take any pictures of his gifts. But I did get a picture of us together on the bus, because we're awesome like that. And there is a picture of the band on the field during half-time on Friday. We did the closer to our American-themed show and even though Troy lost (again) it was a lot of fun. The band got back to Troy around 2 am on Saturday.
Saturday: After getting some much needed sleep, Alex and I got up and went down to Dothan for the day. We went back and visited the Dothan Area Botanical Gardens, which is where we went for our first anniversary. This place is beautiful and I love looking around at all the flowers. DABG also has a lock gate, and we put a lock on the gate and got some great pictures around the gardens.
Our picture holding a picture of us taking the same picture last year.
The sign that someone put on the lock gate
The story behind the Lock Gate at the DABG
Alex with our lock. It is my favorite picture from the day.
We also went to the mall and walked around for a while and took pictures with painted peanuts. Dothan is the Peanut Capital of the world, ironic I know. Then we went to Red Lobster for dinner.
Sunday: We finished out the weekend by going up to Montgomery. Alex wanted to get me a Pandora bracelet for my present, and this thing is absolutely gorgeous! I am so excited to have it, I have wanted one for a while and it just makes it even better because Alex bought it for me. He bought me a treble clef charm, a heart spacer, a present charm, and a charm that says "Forever Together." I am so excited to fill it up over time.
I had a great, fun filled weekend. Grab the button, link up and let me know what you did this week!
Stay hungry my friends!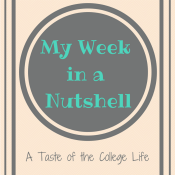 <a href="http://www.atasteofthecollegelife.blostpost.com" target="_self"><img src=" http://s36.photobucket.com/user/fpayne100259/media/WhatACrazy2_zps04aa0fc0.png.html][IMG]http://i36.photobucket.com/albums/e24/fpayne100259/WhatACrazy2_zps04aa0fc0.png " alt="A Taste of the College Life" width="125" height="125" /></a>